Test Service
Test Overview
SFA Semicon provides full turn-key and test solutions for Logic, Mixed-signal, RF & Memory semiconductor testing including test hardware & program develpment and wafer probe testing.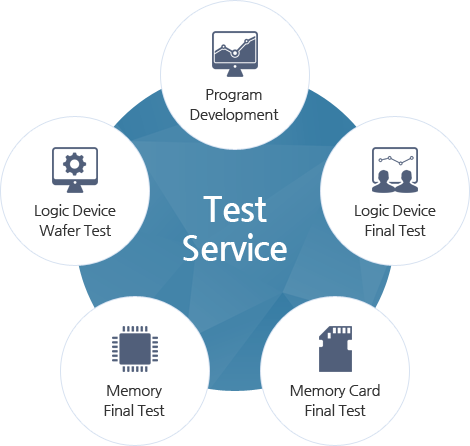 Turn-Key Service
SFA Semicon provides turn-key solutions for bumping, assembly and test
Turn-Key Process Service

Wafer Test Service
SFA Semicon provides wafer level testing after bumping with capability of handling 8, 12 inch wafers. The test result/data can be available through on-line connection in real time base.
SFA Semicon is constantly expanding the test service areas to support customer's various needs by investment of test equipment
Final Test Service
SFA Semicon provides professional final testing services for Memory and Logic semicondutors with various package types including TSOP2, TSOP1, LQFP, FBGA, BGA, COB, and LGA. We also provide final package test solutions for load board(hifix board) design, interface hardware design, test program development, engineering support, production lot verification.
MVP Service
SFA Semicon provides full back-end solutions for laser marking, visual mechanical inspection, bake, tape and reel, dry packing for tested ICs. We also provide finished goods storage and drop-shipment services which can support the shipments for various different locations and end users.
Test Engineering Service
SFA Semicon provides test technical supports for tester correlation, test program verification & development, test interface solution, failure analysis and yield improvement amd periodical reports.
IT Infra
SFA Semicon operates SBL system for statiscal process control management and provides IT sevices for customized test data.